The Beatles - A Day in The Life: March 25, 1969
Monday, March 24, 1969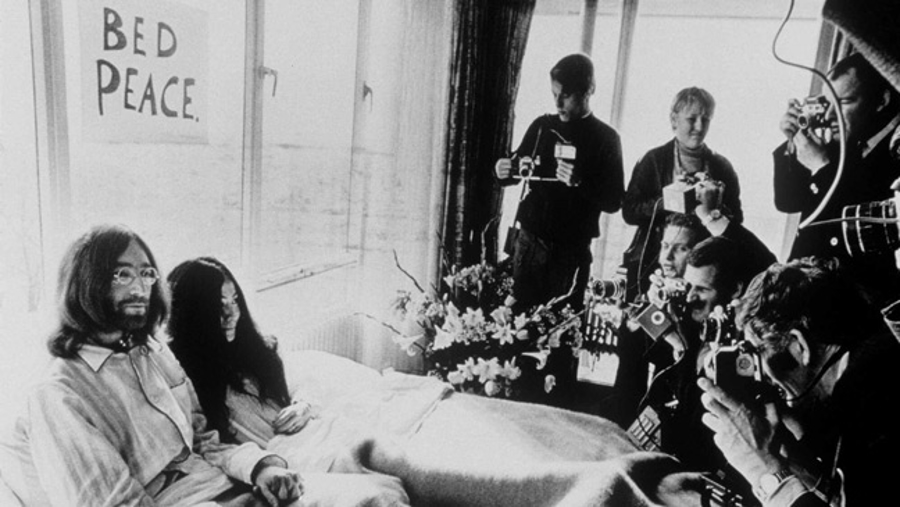 Beatle John Lennon and his newlywed second wife, the artist Yoko Ono, attracted the attention of the international press in the cause of world peace on this day in 1969, as they began a publicity campaign they called a 'Bed-in' in Amsterdam.
The couple had flown from Paris to Gibraltar to be married five days earlier and on their return to the French capital had formulated a way to use the inevitable publicity generated by news of their wedding.

They were driven to Amsterdam on the morning of March 25 and checked into the Hilton Hotel, where they were allocated room 902 – the presidential suite – which they decorated with photos and hand-made signs.The couple sent out cards to press agencies and newspapers inviting them to 'John and Yoko's honeymoon: a Bed-in'. After controversy over the cover of their album Two Virgins, on which they appeared naked, some reporters seemed to believe that it was an invitation to watch them have sex.
Instead, they found the pair "like two angels in bed, with flowers all around us, and peace and love on our heads," as Lennon reported. "We were fully clothed; the bed was just an accessory."
John and Yoko took interviews throughout the week, explaining their intention of using their fame to generate headlines about peace instead of war and conflict. Their explanations were met with a mixture of polite interest, amusement and outright hostility.
Lennon explained: "We (thought) would sell our product, which we call 'peace'. And to sell a product you need a gimmick". And despite the scorn of sections of the press, the campaign was widely publicised around the world.
John and Yoko's Bed-in – Did you know?
Lennon and Ono met at a preview of her art exhibition at the Indica Gallery, London in 1966. They became a couple two years later, though both were still married at the time.
They were inspired to marry by the wedding of Paul McCartney and Linda Eastman earlier in March and flew to Paris, but were not allowed a license to do so at short notice, having to travel to British protectorate Gibraltar instead.
The week-long Bed-in was recorded, and became a 40-minute film, Honeymoon. Lennon and Ono also made audio recordings in the suite that later appeared on their third experimental LP, The Wedding Album.
A week after the event, the couple flew to Vienna to hold a press conference promoting 'bagism' – the concept of covering oneself in a bag in order to avoid being judged on race, appearance or attire.
The wedding, Bed-in and bagism events were all documented by Lennon in the lyrics of The Ballad of John and Yoko, which became The Beatles' last no. 1 hit in the UK in June 1969.
The couple deemed the Bed-in successful enough to hold another at the Queen Elizabeth Hotel in Montreal, Canada from May 26. It was here on June 1 that they recorded Give Peace a Chance, which would become an anthem for campaigners around the world.
A sketch drawn and signed by John at the Montreal Bed-in (above) was sold for £25,000 at a Sotheby's Rock 'n' Roll auction in 1997.
The recording session featured John and Yoko, her daughter Kyoko and various celebrities called including acid guru Timothy Leary, singer Petula Clark, comedian Dick Gregory, poet Allen Ginsberg, DJ Murray the K and Beatles publicist Derek Taylor.
Source: Chas Early/home.bt.com