The Beatles - A Day in The Life: December 11, 1968
Tuesday, December 10, 1968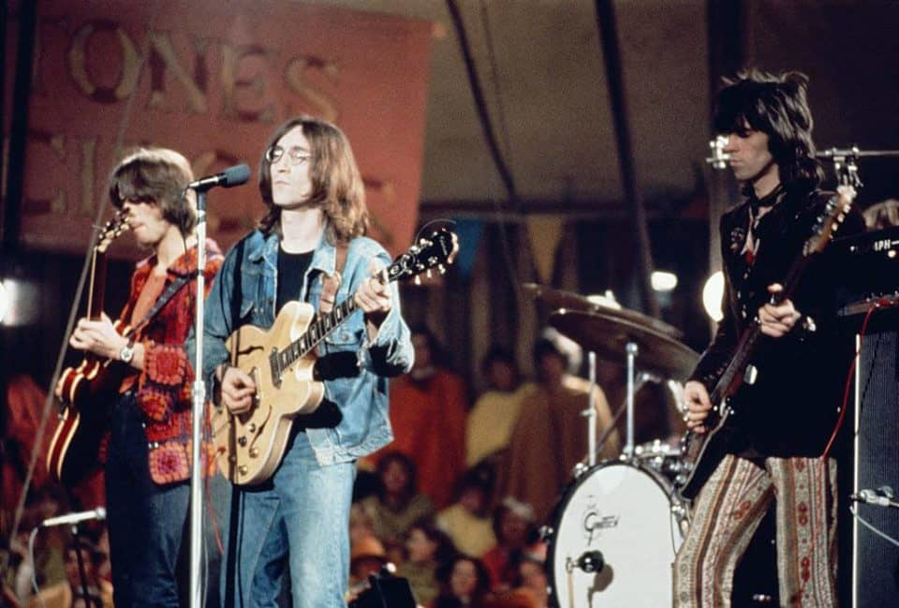 Today John Lennon and Yoko Ono were guests performing on The Rolling Stones' television spectacular, Rock And Roll Circus.
The event was filmed at InterTel, a video facility at Stonebridge House in Wembley, London. The footage was captured on video and film, with sound recorded by Glyn Johns and Jimmy Miller on Olympic's mobile studio.
Guests for the show included Eric Clapton, Jethro Tull, Marianne Faithfull, The Who, drummer Mitch Mitchell, pianist Julius Katchen and blues singer Taj Mahal.
Lennon was part of a temporary supergroup known as The Dirty Mac, which also featured Keith Richards, Eric Clapton and Mitch Mitchell. The group played a version of Yer Blues from the White Album.
It was followed by a piece known variously as Whole Lotta Yoko or Her Blues. Yoko Ono emerged from a black bag on the stage, and she and violinist Ivry Gitlis performed an improvised 12-bar blues with the Dirty Mac.
The Rolling Stones' own performance began 2am the following morning. By this time Lennon and Ono had departed to do a BBC radio interview, but they returned for part of the Stones' set. The couple were also filmed at various times offstage earlier in the day, and Lennon and Jagger traded jokes for a link sequence to introduce The Dirty Mac.
Upon viewing the footage, The Rolling Stones felt their performance was not the best, and that they had been upstaged by The Who's A Quick One While He's Away, so decided not to release Rock And Roll Circus. The audio and video footage circulated widely on bootlegs before being released officially in 1995.